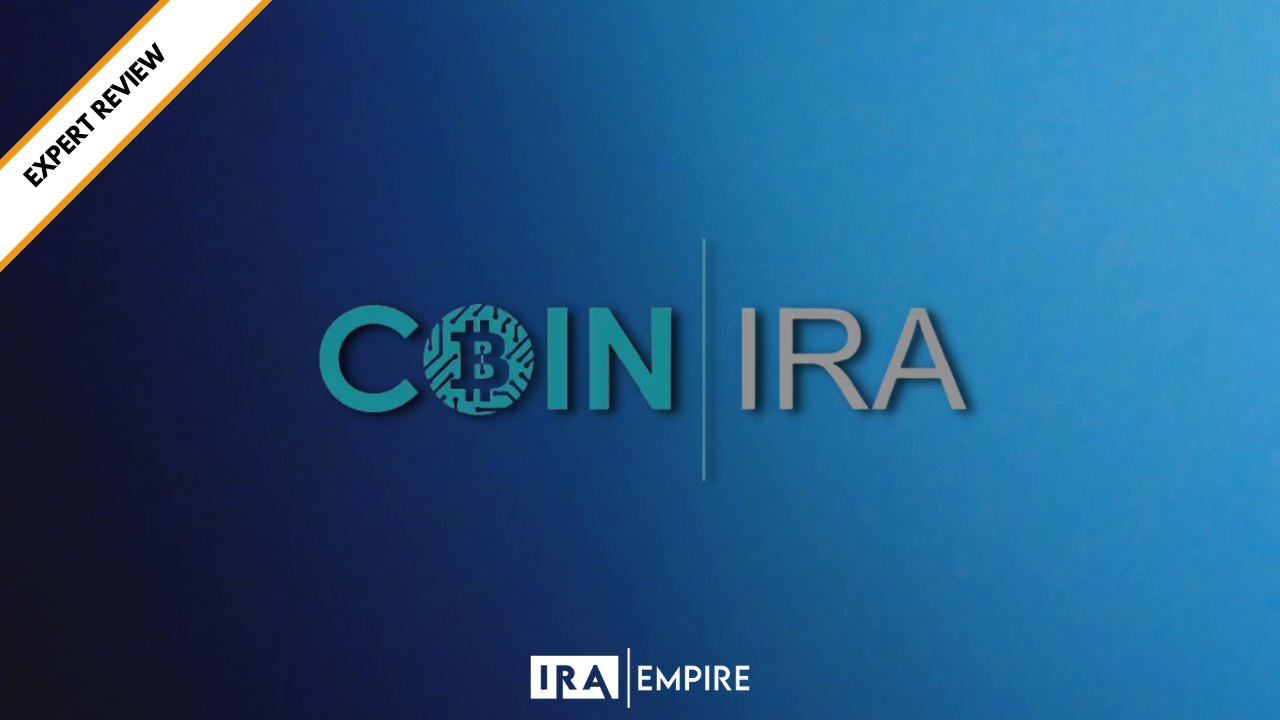 Average
Coin IRA is a crypto IRA provider based in Los Angeles, California. The company has been in the industry since 2017 and has received an A+ rating from BBB. They have partnered with Equity Trust to offer IRA services. The company allows customers to trade cryptocurrencies through IRA funds as well as non-IRA funds. However, they have a rather small selection of cryptocurrencies available in their selection. The company hasn't received many reviews as well.
Pros
Offer IRA and non-IRA trading
No setup, maintenance or storage fee
Cons
Very limited reviews
Small selection of cryptocurrencies
High account minimum
What is Coin IRA?
Coin IRA is a crypto IRA company based in Los Angeles, California. Their office is located at 21550 W Oxnard St 3rd Floor, Woodland Hills, CA 91367. Similarly, their contact number is 888-998-2646.

Established in 2017, Coin IRA has come a long way and is a prominent player in the industry. The company has received an A+ rating from BBB.
They offer customers to set up their IRA themselves or get assistance from one of their experts. Also, they offer customers to open both IRA and non-IRA custody accounts. They have partnered with Equity Trust, a highly reputed IRA custodian.
Coin IRA has a decent collection of cryptocurrencies for its customers. Furthermore, the company provides consumers with several free resources to help them get acquainted with the industry.
It's worth pointing out that they were among the first crypto IRA providers in the US. The company has been featured in several major publications and news outlets including Forbes and Investopedia.
They have a proprietary cryptocurrency trading platform which lets consumers trade 24/7.
According to the company's website, its primary focus is on listening to what consumers want and delivering it with complete transparency. They can work with existing 401(k) and IRA accounts as well as those without any of the two.
People Behind Coin IRA:
Currently, the CEO of Coin IRA is Brenda Whitman. She is also the co-owner and co-founder of the company. Before founding this crypto IRA company, she was the CEO of Goldco, a prominent gold IRA company.
She has also served as the COO of the Gold IRA firm. Prior to that, she spent 10 years in Capital Gold Group Inc. There, she took on various roles including Director of IRA Services, Vice President and heading their National Affiliate Program.
Her experience in the IRA industry is clearly reflected in the growth Coin IRA has seen since its inception.
Brenda Whitman also has a lot of experience in sales as well. She started her career at CompUSA Inc.
How to Sign Up with Coin IRA:
The signup process at Coin IRA is relatively easy. You only need to follow three steps to create an account with them.
First, you would need to get in touch with the company and submit an IRA form. The company works with Equity Trust, a renowned custodian who works with many IRA companies including California Numismatic Investments and Augusta Precious Metals.
You can choose from three kinds of IRA accounts and it is possible to open more than one type with this firm.
These account types are:
Traditional IRA: Your contribution would be tax-deductible while qualified distributions would be taxable.
Roth IRA: Here, your contributions would not be tax-deductible but qualified distributions would be tax-free.
SEP IRA: This account type is for self-employed professionals. Your contributions would be tax-deductible while qualified distributions would be taxable.
The account grows in all of the above account types are tax-deferred.
After you have chosen your preferred account type, you would be asked to decide how you want to fund your new IRA.
You can fund your account through the following three methods:
IRA Transfer: transferring funds from another IRA to your new IRA.
Rollover: rolling over funds from an existing 401k or employer-sponsored plan to your new crypto IRA. You can perform a partial or complete rollover of the funds.
IRA Eligible Contribution
Once you have added funds to your new IRA, you can begin adding cryptocurrencies to it from the inventory of Coin IRA. You can use their proprietary trading platform to begin trading cryptocurrencies by using the funds present in your IRA.
The company highlights that only the withdrawals you make from the account would be taxable. All of your trades within the crypto IRA would be tax-free.
Coin IRA Products:
The available assets at Coin IRA include plenty of popular names including:
Apart from these, you would also find:
Chainlink
Solana
Stellar
Mana
Year Finance
Dai
Livepeer
Ethereum Classic
Uniswap
Zcash
And several others.
You would get the option to trade these cryptocurrencies from both an IRA account and a cash account through one login.
However, unlike Bitcoin IRA, you wouldn't find any precious metals in their selection. Their catalogue only features cryptocurrencies. Also, the selection is smaller than other major crypto IRA providers as Bitcoin IRA offers over 60 cryptocurrencies while Coin IRA's selection is limited to 20.
Coin IRA Fees and Cost:
The company doesn't charge any setup, maintenance or storage fees. This is a huge advantage of Coin IRA and it makes them one of the most cost-effective IRA companies in the industry.
Customers who opt for self-trading would need to pay 1.25% on buy trades and 1% on sell trades.
On the other hand, customers with guided accounts would have to pay 2.25% on buy trades and 1% on sell trades.
The minimum deposit requirement of a Coin IRA is $5,000.
Apart from these charges, you might have to incur some of the charges of their custody partner, Equity Trust. Below is their fee structure for cryptocurrency IRAs.
| | |
| --- | --- |
| Initial Setup Fee | $0 |
| Maintenance Fee | $0 |
| Transaction Fee (for self-trading accounts) | 1.25% on buy trades and 1% on sell trades |
| Transaction Fee (for expert-guided accounts) | 2.25% on buy trades and 1% on sell trades |
| Account Minimum | $5,000 |
Additional Highlights of Coin IRA
Apart from being one of the first companies to offer cryptocurrency IRAs, there are plenty of additional qualities which make Coin IRA stand out in the market. Here's a detailed overview of those qualities:
Tax-Free Cryptocurrency Trading:
When you use your IRA funds to trade cryptocurrencies, the trades aren't taxable. You would only have to pay taxes on the withdrawals you make from the account.
This is a big benefit of having a crypto IRA and can help you bolster your savings considerably. That's why crypto IRAs are becoming increasingly popular as you don't get this facility with crypto exchanges.
Non-IRA Cryptocurrency Trading:
Coin IRA is the only prominent crypto IRA firm which allows consumers to trade cryptocurrencies outside of their IRA. This facility is unavailable with other prominent crypto IRA firms like iTrustCapital.
Investors who don't want to use their IRA funds to trade cryptocurrencies would certainly find this feature attractive.
Enhanced Security and Storage:
Another positive highlight of this crypto IRA firm is its enhanced security facilities. The company offers free cold storage to its customers.
Cold storage wallets take your digital currency offline when you're not using them. This way your funds remain safe from any hacking attempts. Similarly, the company uses multi-factor authorization to provide account access.
They store keys in cold storage present in Grade-5 Nuclear Bunkers. Furthermore, they have 24/7 guards and cryptography experts protecting it. All of your digital assets would be covered from internal and external theft, physical loss, and damage by dollar-for-dollar insurance.
The insurers are London-based with S&P ratings of A or better.
That's not all. The company uses Level II Cryptocurrency Security Standards to ensure complaints with external audits.
Surely, Coin IRA values security and their multiple features ensure that their clients don't have to worry about their funds.
Free Resources and Blog:
Coin IRA puts a lot of effort into client education. Their website has a dedicated page for live pricing of the cryptocurrencies available in their selection.
The company offers a cryptocurrency investing guide to consumers for free as well. It covers the tax benefits of having a crypto IRA, the process of rolling over funds into a crypto IRA and the advantages of investing in digital currencies.
Customers can access this guide directly from the website of Coin IRA. If you're new to crypto trading, you might find it useful.
This guide has several subsections including an FAQ page.
The company has a blog as well where they post regular content covering the cryptocurrency sector, economy and investing. They share the latest updates of the sector there.
Another interesting resource available on their website is the Cryptocurrency Terminology page. It is a glossary of all the terms most crypto traders use.
Coin IRA Reviews and Complaints
Despite being in the industry for 5 years, Coin IRA hasn't received any reviews online. While writing this review, I only found a handful of reviews on this firm.
On BBB, the company has an A+ rating and no customer reviews. Also, they have received 1 complaint in the last 3 years but the complaint is closed.
Their Trustpilot page has an overall rating of 3.7 out of 5 stars and only one customer review. However, the review gives the company 5 out of 5 stars.
Similarly, the crypto IRA firm has received 10 Google reviews. All of them give the company a stellar 5 out of 5 stars rating.
Such a lack of reviews might make it difficult for investors to trust this company.
Is Coin IRA Legit?
Pros:
Offer IRA and non-IRA trading
No setup, maintenance or storage fee
Cons:
Very limited reviews
Small selection of cryptocurrencies
High account minimum
Yes, Coin IRA is a legitimate crypto IRA provider.
Despite being in the industry for only 5 years, Coin IRA has succeeded in establishing itself as a prominent brand. The company's founder and CEO is a seasoned IRA professional with decades of industry experience.
Their website features multiple free resources including a blog and a glossary of cryptocurrency terms. Also, the company provides consumers with extremely secure cold storage of their digital assets.
They have partnered with Equity Trust, a prominent IRA custodian with $34 billion worth of assets.
However, the company's limited asset selection might deter some investors from signing up with them. Another drawback could be the lack of reviews available on the company.
Opening a crypto IRA can help you safeguard your finances and grow your portfolio at the same time. However, the IRA provider you choose would have a huge impact on your returns.
That's why it's crucial to choose an IRA provider with a large asset selection, reasonable fee structure and attractive features. For certainty, it's best practice to check out multiple crypto IRA firms before choosing one.
I recommend checking out our best crypto IRA companies before making any decision.