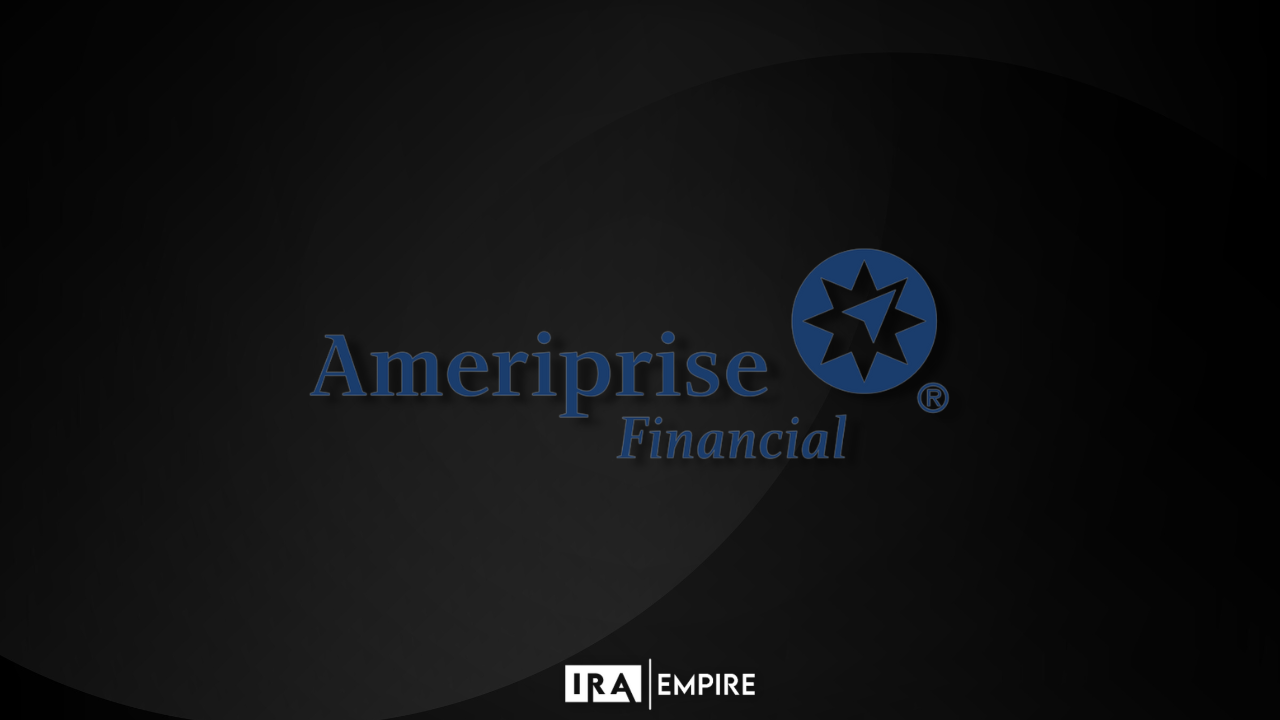 Not Recommended
Ameriprise Financial doesn't offer any gold IRA services. Although they have a large selection of investments to offer, they have faced too many customer disputes in recent years as well.
Pros
Large selection of programs and investments
Many advisors with high-end credentials
Low account minimums
Cons
Investment fees can run high
Has many disciplinary disclosures
Not a BBB-accredited business
Does not offer Gold IRAs
The fee structure is complex
Ameriprise Financial Services, LLC is a major wealth management firm in the United States. The firm was known as American Express Financial Advisors until becoming a publicly traded company in 2005.
The firm is a broker-dealer as well as an investment advisor. Ameriprise Financial Services is headquartered in Minneapolis, but it has smaller branches all throughout the country. The vast majority of its financial advisors also work as insurance agents and brokers.
Continue reading to learn more about Ameriprise Gold IRAs and whether they are worth your investment.
What is Ameriprise Gold IRA?
Ameriprise was founded in 1894 as the Investors Syndicate.
The company has changed its name and ownership several times, and it has bought other companies such as British investing firm Threadneedle, quantitative platform Dynamic Ideas, Columbia Management, J. & W. Seligman, and H&R Block Financial Advisors.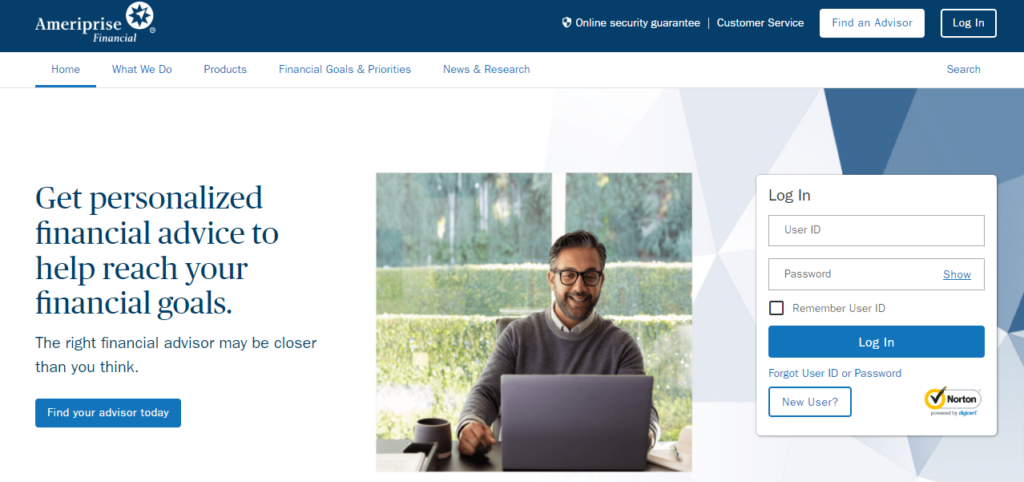 So, in addition to providing key financial advice, they also offer insurance and investment products. However, investors want to know if Ameriprise is a solid alternative for starting a gold IRA.
Unfortunately, Ameriprise is not an ideal option for investors who want to protect and diversify their wealth from inflation because they do not offer an IRA that can hold physical precious metals.
According to Investment News, LPL Financial is the only other wealth management firm that makes more money than Ameriprise.
In 2018, Ameriprise had about $4.8 billion in revenue, while LPL Financial had around $5.2 billion. Fees totaled $2.6 billion of the $4.8 billion, with commissions totaling $1.25 billion.
What Products & Services Does Ameriprise Gold IRA Offer?
Ameriprise provides a wide range of financial services, including financial planning, portfolio management, and asset allocation.
Financial planning
Retirement planning
Portfolio management
Insurance and annuities
Certificates of deposit (CDs) and cash management accounts
Home loans and securities-based lending
Ameriprise provides discretionary and non-discretionary account management, depending on your preferences and account type.
Discretionary management allows your adviser to transact in your account without getting your permission for each trade. Non-discretionary management involves you and your advisor discussing each transaction before it is executed.

Finally, if you're a client, you'll have access to a number of financial tools such as fund screeners and market research. When you log in to your account, you'll see these resources.
Available Investments
While Ameriprise's focus is on "ordinary Americans," you'll find a diverse range of investment options to help you achieve your financial objectives
Stocks
Bonds
Options
Structured notes
College savings plans
Unit investment trusts (UITs)
Exchange-traded funds (ETFs) and mutual funds
Alternative investments
Annuities
What are Ameriprise Gold IRA Fees and Charges?
Ameriprise, like other large financial advisory firms, has complex fee structures, which we will go through one by one.
Advisory and Planning Fees
A minimum annual advising fee of $500 is expected for your advisor's continued help throughout the year. However, depending on their expertise, the complexity of your needs, and professional credentials, such as a certified financial planner (CFP) or chartered financial analyst (CFA), your advisor may charge more than the firm's minimum.
If you sign up for continued financial planning services, you will additionally be charged a monthly cost of $50. Your adviser may negotiate both your advising and ongoing planning fees.
Managed Account Programs
Ameriprise offers a number of managed account programs, commonly known as wrap fee programs. You will pay a single consolidated annual fee based on the value of your account with these accounts. The single price will cover your annual advising fee as well as most brokerage fees, such as commissions and transaction costs.
Wrap fees with Ameriprise are capped at 2% AUM. For example, if you have $100,000 invested in an Ameriprise-managed account, your maximum yearly fee would be $2,000.
Additional Account Fees
You should anticipate paying commissions and other brokerage costs in addition to your annual advisory charge if you are not enrolled in an Ameriprise wrap fee program.
Ameriprise Financial Services Disciplinary Disclosures
Ameriprise Financial Services has a number of disciplinary incidents to record during the last few years.
If an investment firm or its employees or affiliates have any disclosures on record, the firm must declare the incident on its SEC Form ADV filing as well as its official brochure. This could include criminal activity, regulatory fines, or civil suits. Ameriprise Financial Services states the following in its SEC brochure, in the order in which the matter was resolved:
2018:
Ameriprise Financial Services paid a $4.5 million civil penalty to the SEC in August of 2018. The SEC ruled that Ameriprise Financial Services did not have proper procedures in place to protect customer assets from appropriation (embezzlement) from 2011 to 2014 and that the firm also failed to supervise five representatives who were in violation of certain securities laws.
2017:
In addition, Ameriprise Financial Services was fined by the SEC in 2017 for its involvement in F-Squared Investments, which made fraudulent claims about its ETFs. Ameriprise Financial Services used these misleading assertions in its advertising when selling these ETFs from 2010 to 2013. The SEC concluded that Ameriprise Financial Services did not have the proper systems in place to detect this fraudulent information, and Ameriprise was fined over $8 million.
2016:
FINRA discovered that between 2011 and 2013, a representative inappropriately handled $375,000 in wire transfers from five customers who were also family members of the representative. Ameriprise Financial Services, according to FINRA, should have had processes in place to avoid this situation. In 2016, a settlement was reached, and the firm was fined $850,000.
What are the Pros & Cons of Ameriprise Gold IRA?
Before making a buying decision, consider the following Ameriprise Gold IRA pros and cons:
Pros
Large selection of programs and investments
Many advisors with high-end credentials
Low account minimums
Cons
Investment fees can run high
Has disciplinary disclosures
Not BBB-accredited business
Does not offer Gold IRAs
The fee structure is complex
My Recommended Ameriprise Gold IRA Alternative
I don't recommend investing in a gold IRA with Ameriprise. Why? Because they don't specialize in this area.
I recommend going with our top-rated company: Augusta Precious Metals. You can check out my review of them here.
Augusta Precious Metals is regarded as one of the most trustworthy companies in the market. Their company was founded in 2012, and their main goal is to help their clients have a better retirement.
Thousands of good reviews about their products and services can be found on numerous websites. This shows how successfully they achieve their tasks and handle their customers regardless of their needs.
Augusta Precious Metals maintains its leadership position by providing its clients with educational resources. This is excellent for people who need more field experience and understanding.
It is also significantly easier to open an account with them. You will still have to deal with paperwork, but they will assist you through the process to ensure everything is in order.
The only disadvantage of the company is its high minimum investment requirement of $50,000. Others may think this is overpriced, but rest assured that they will keep your assets and cash protected.
Pros:
Kingdom Trust, which manages over $12 billion in assets, has been a long-term partner.
A wide range of products are offered.
A long list of coins
All orders receive free shipping.
Cons:
The minimum investment cost is high ($50,000).
What Makes Gold an Ideal Investment For Your IRA?
Invest in an Individual Retirement Account (IRA) to safeguard your retirement and the financial stability of your family.
To guarantee your future, you must devote a major amount of your long-term savings to reliable assets.
As the value of cash in an IRA depreciates rapidly and inflation rises, you need a stable asset that will retain its value and expand over time. Without question, gold is the best alternative for this purpose.
As the global economy struggles with lockdowns, shortages, conflicts, and inflation, investors are concerned. Many people invest in gold IRAs to protect their wealth and achieve a better future.
During a crisis, when other assets suffer, a gold IRA investment thrives. The greatest risk is failing to protect yourself and your family, but you can simply ensure your financial future with a Gold IRA. You achieve safety by being aware of economic risks and taking proactive steps to prevent them.
Conclusion
Ameriprise Financial Services may be a good option if you have a limited budget yet want a professionally managed portfolio. You can use some of the firm's programmes for as little as $25,000 and gain access to a diverse range of products and services. You can also discover a local advisor anywhere in the United States.
Just be sure to pay attention to your rate before signing up, because the firm's costs might be quite costly depending on what you negotiate.
However, it is concerning to see that they do not offer an IRA that can hold physical precious metals, have disciplinary disclosures, and are not a BBB-accredited business.