Palladium IRA is another name for precious metals IRAs. You can invest in gold, silver, palladium, and platinum in a precious metals IRA. Although not all kinds of palladium are allowed for use in a self-directed IRA, the eligible ones are of guaranteed purity and availability.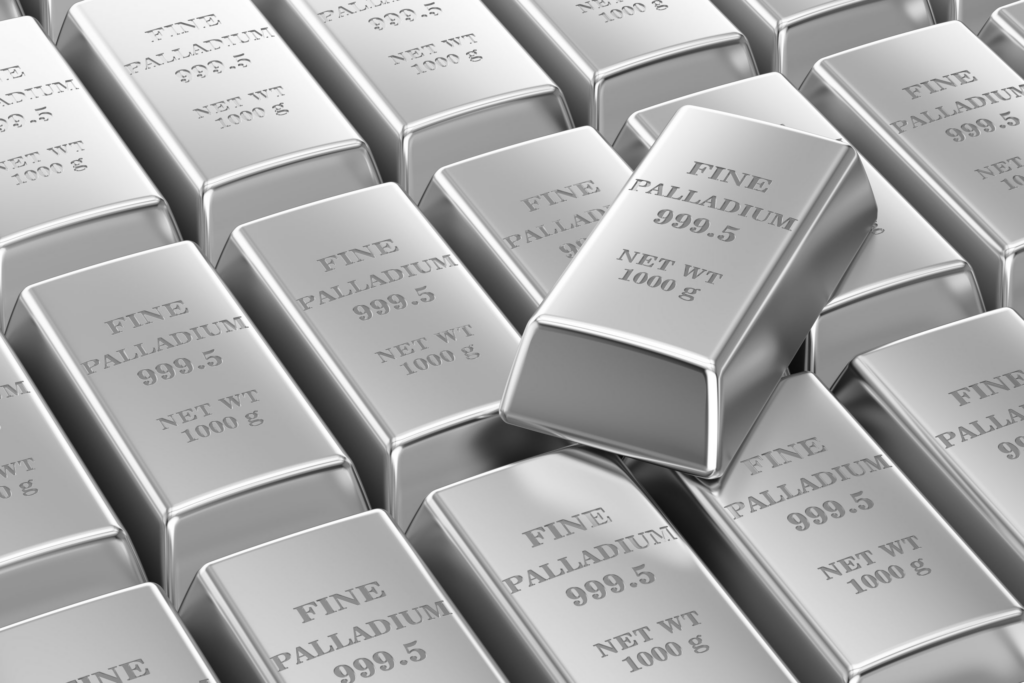 The Internal Revenue Service or better known as the IRS, has laid down specific rules and regulations which must be followed when investing in palladium in an IRA.
These rules specify the minimum purity levels required, the storage vault placement, and the availability of the coins. Most of the popular palladium bullion products you will see in the market are not allowed for IRA use, and you might even be fined by the IRS if you are caught doing so.
What is IRA Eligible Palladium?
The IRS aka Internal Revenue Service has laid down specific rules and regulations for individuals with precious metals IRAs. You can hold palladium as an asset in your precious metal IRAs. You can enjoy the tax benefits of a traditional retirement account while also benefiting from the potential and safety of the precious metal(s).
Rules & Guidelines For Eligibility Of Palladium In IRA
If you are smart with your investment, you can be confident of getting significantly better returns through a precious metals IRA when compared to traditional retirement vehicles. Below are the 3 rules which you must follow:
Every palladium coin or bar contained as an asset in the IRA itself must have a minimum purity level of .9995 or more. This is by far the most important rule and should be kept in mind when buying palladium for IRA.
You need to keep your palladium coins and bars in an IRS-approved depository. These vaults are not only highly secured but are also a necessity for any precious metals IRA holders. All the major bullion dealers have partnerships with great self-directed IRA custodians, so if you go with one of the best precious metals IRA companies, you won't have to worry about all this. The main two depositories are Brinks Global and Delaware Depository.
A custodian must be appointed for the IRAs as the account trustee. Reputable brokers often partner up with several custodians to help their clients through this.
IRA Eligible Palladium Coins
Below are the two most popular palladium bullion coins that are eligible for IRAs:
You can find dozens of other IRA-approved palladium coins with good purity levels but we would recommend double-checking their eligibility before making a purchase. If you already have a precious metals IRA and want to include palladium coins in your inventory, then it is important that you opt for legal bullion for
IRA Eligible Palladium Bars
We've listed the best IRA-eligible palladium bars in the list down below. We will keep this list updated if any changes are made in the trends.
Any palladium bar produced by a COMEX or NYMEX-approved refinery & assayer, with a min. purity level of .9995 can be used in an IRA.
Palladium Bullion Products Not Eligible For IRA
Why You Should Invest In IRA Eligible Palladium
Investing a portion of your directed IRA account funds into palladium can be a great decision. We all know the massive growth of the electronic vehicle industry. Palladium is used in the manufacturing of EVs, not only this but it is also used in the production of semiconductors in other vehicles as well.
The price of palladium increases when the price of other precious metals decreases, this makes it an excellent choice for diversification in your IRAs.
In a precious metals IRA, you are safe from the continuous decline of the US dollar. If we take a look at the historical data, we can see that investors flock to invest in precious metals when the dollar goes down, which has a snowball effect on the price of these precious metals.
Unlike other precious metals, palladium is being utilized in industries that are growing at an exponential rate. Experts have reasons to believe that the EV market is going to continue to grow and thus, the need for palladium will be higher than ever before.
FAQs
Here are some of the most commonly asked questions investors have when they are interested in IRA-eligible palladium:
What is a Palladium IRA?
Unlike most IRAs, a precious metals IRA allows you to purchase physical precious metals like palladium, gold, silver, and platinum. A precious metals IRA containing mostly palladium is also sometimes called a Palladium IRA.
What is a Palladium IRA Rollover?
When you move funds from one or more IRA accounts into your palladium IRA account, it is called a palladium IRA rollover. A rollover takes place when an investor transfers assets from their employer's retirement plan directly to their palladium IRA trustee/custodian.
Is Palladium IRA Better Than Gold IRA?
Palladium is mostly used in manufacturing catalytic converters and it has been going up in value in recent years. While gold has been a reliable investment for centuries, we simply cannot ignore the increasing demand for palladium. There's no doubt that palladium is an excellent precious metal for diversifying your retirement investment vehicle.
How to Start a Palladium IRA?
First, you have to choose a self-directed IRA custodian, after which you look for a precious metals dealer and find palladium bullion products to purchase. Then you have to choose an IRS-certified depository. Usually, the dealer will help you find a certified depository to safely store your physical coins and bars.