Verdict
Oakhurst Metals is a bullion dealer with a decent product selection. However, they have several red flags which make it difficult for me to give them a higher rating.
Pros
Gold IRA services available
Cons
Not a BBB-accredited business
Lack of transparency regarding the management
Risk of hidden fees and charges
Received many complaints for poor customer service
They have D- rating on BBB and F rating on BCA
What is Oakhurst Metals?
Oakhurst Metals Locations, Timings, Email, Phone, Services
Oakhurst Metals is a precious metals dealer based in Los Angeles, California. They offer a wide variety of gold, silver, and other precious metals products, including coins, bars, rounds, and jewelry. Oakhurst Metals also offers a variety of services, such as storage, IRAs, and education.
Oakhurst Metals has a D- rating with the Better Business Bureau and has been involved in 2 legal disputes in the past 3 years. They have also received a number of negative reviews online, with customers complaining about poor customer service, delayed deliveries, and damaged products.
This company has been classified as a "Business Alert" on the Business Consumer Alliance website. This designation indicates that the BCA has received multiple complaints about the company and has determined that there is a significant risk for consumers who choose to do business with them, as problems are likely to arise.

Address: 6310 San Vicente Blvd Ste 300, Los Angeles, CA, United States
Phone: +1 888-260-4749
Website: https://oakhurstmetals.com/
Email: info@oakhurstmetals.com
Hours: Monday-Friday: 8 am-5 pm
People Behind Oakhurst Metals: CEO, Owner, Co-Founders & More
Who owns Oakhurst Metals? What is the management team behind Oakhurst Metals?
The most significant drawback of Oakhurst Metals is the lack of available information about the company's owner and management team members. On their website and other public platforms, no details or profiles are provided, making it challenging for potential clients to understand the individuals behind the company's operations.
Having information about the owner and management team is crucial for establishing trust and credibility with customers. Clients often seek this data to assess the experience, expertise, and reputation of the people responsible for managing their investments. Knowing who is at the helm of the company can also provide reassurance and a sense of security when making financial decisions.
Without this crucial information, some potential clients might feel hesitant or uncertain about engaging with Oakhurst Metals. By addressing this issue and providing clear details about the owner and management team, the company can build stronger relationships with clients and foster a sense of transparency, thus enhancing its overall reputation in the market.
Transparency is Important
All gold IRA companies are NOT the same. We've done the hard work for you and found the most transparent gold IRA company with the highest rating by customers.
Oakhurst Metals Products: Bullion Coins, Bars, And Rare Coins
All products offered by Oakhurst Metals
The company specializes in offering a diverse range of physical precious metal products directly for purchase or investment into an IRA. Among their offerings are IRA-approved gold, IRA-approved silver, and various other precious metals, which are available in different forms such as bars, bullion, and coins.
This wide selection of precious metals ensures that clients have plenty of options when it comes to investing or making purchases. The company's primary focus is on safeguarding its clients' wealth and assets during economic downturns. They aim to be a reliable partner, always available to support clients during critical times.
When considering investments in gold, this company stands out as a dependable guide throughout the investment process. They prioritize providing the best protection for clients' assets. As a leading provider of wealth and assets protection services, clients can trust them to ensure the safety and security of all their investments.
Beware of Gold IRA scams. Recently several scams have been charged by the authorities. Companies such as Regal Assets, Safeguard Metals and Red Rock Secured defrauded hundreds of retirees like you and me. I strongly suggest you learn how to identify gold IRA scams. You can request a free guide using the button below: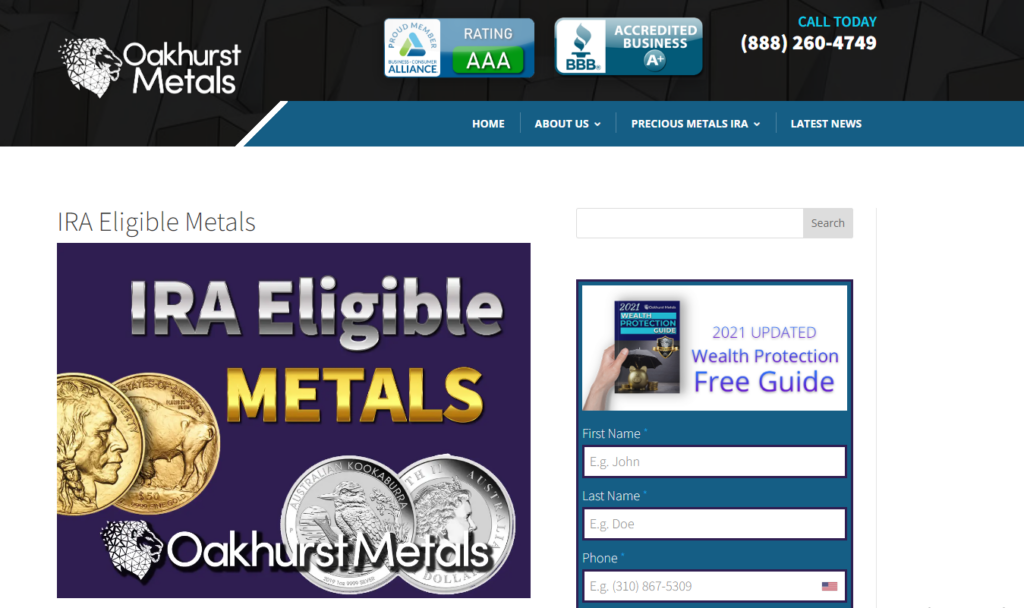 How to Invest in Oakhurst Metals IRA?
Step-by-step guide for investing in Oakhurst Metals IRA
To invest in a precious metals IRA through Oakhurst Metals are the general steps:
Open a Self-Directed IRA

Select an IRA company that handles opening precious metals IRA accounts and fill out an application. You can work with Oakhurst Metals to recommend an IRA company and provide the necessary paperwork. However, I don't recommend doing so.

Fund Your IRA

Once you have selected an IRA company, you can move your funds into your new IRA account. You can work with the IRA company representative to transfer or rollover funds into the new account.

Select a Precious Metals Dealer

One of the forms you need to fill out along the way is typically called a Buy Direction Letter. This is where you list the precious metals dealer you have selected, such as Oakhurst Metals.

Decide Which Precious Metals to Purchase

You can choose to invest in gold, silver, platinum, or palladium for your IRA. There are some restrictions regarding fineness requirements and allowable coin types, so it's important to get guidance from Oakhurst Metals in this area.

Place Your Order

Once the funds are available in your IRA account, you can call them to place your order for the desired precious metals.
However, I don't recommend opening an IRA with Oakhurst Metals. Why? Because there are plenty of better options available for you.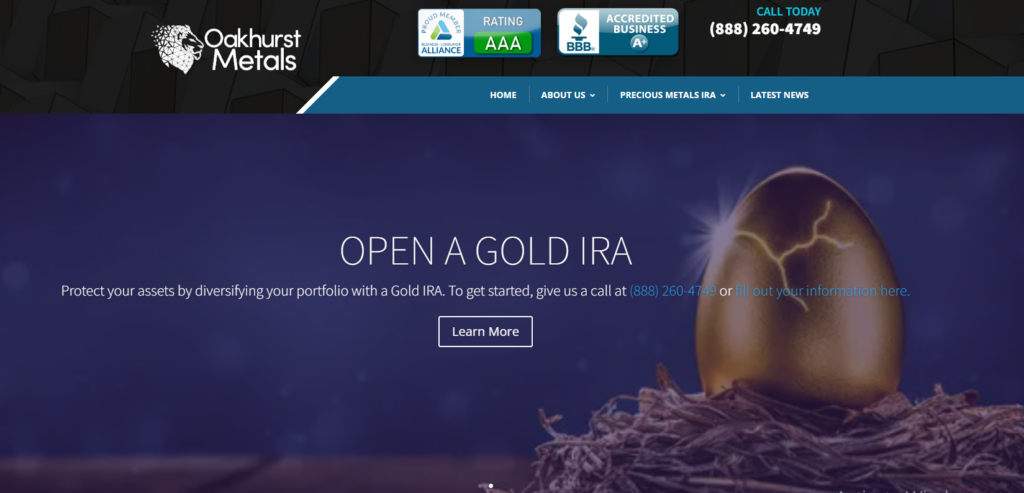 Opening a precious metals IRA is a major decision. That's why I suggest checking out our top gold IRA providers list. You can find the best precious metals dealer in your state and choose accordingly.
Also, the list will help you understand what the industry best has to offer and what you might miss out on. On the other hand, you can get a free guide on gold IRAs below. It will help you understand the process.
Learn More About Gold IRA
If you're unfamiliar with how a gold IRA works, sign up for a free guide below:
Oakhurst Metals Fees and Charges: Do they overcharge?
What are their fees? Do they have hidden fees?
Oakhurst Metals' transparency regarding fees and pricing has been called into question as they have not made this information readily available on their website. Instead, customers can only access the fees and pricing structure upon request when opening a gold IRA account.
This lack of upfront disclosure is seen as a drawback by some individuals who prefer to have all fees clearly displayed on the company's website. In the interest of fostering greater transparency and trust with potential clients, it would be beneficial for Oakhurst Metals to provide a comprehensive breakdown of their fees on their website for easy access and consideration before making investment decisions.
Companies like Augusta charge ZERO fees for up to 10 years, allowing you to choose your gold & silver. Oakhurst Metals on the other hand provide fewer options.
>>>Get in touch with the #1 rated gold IRA company of 2023<<<
Social Media Presence of Oakhurst Metals:
Twitter, Facebook, LinkedIn & Instagram
Oakhurst Metals Twitter Page:
The company has an account on Twitter. They have 61 followers and are following 20 accounts. Oakhurst Metals joined Twitter in July 2020.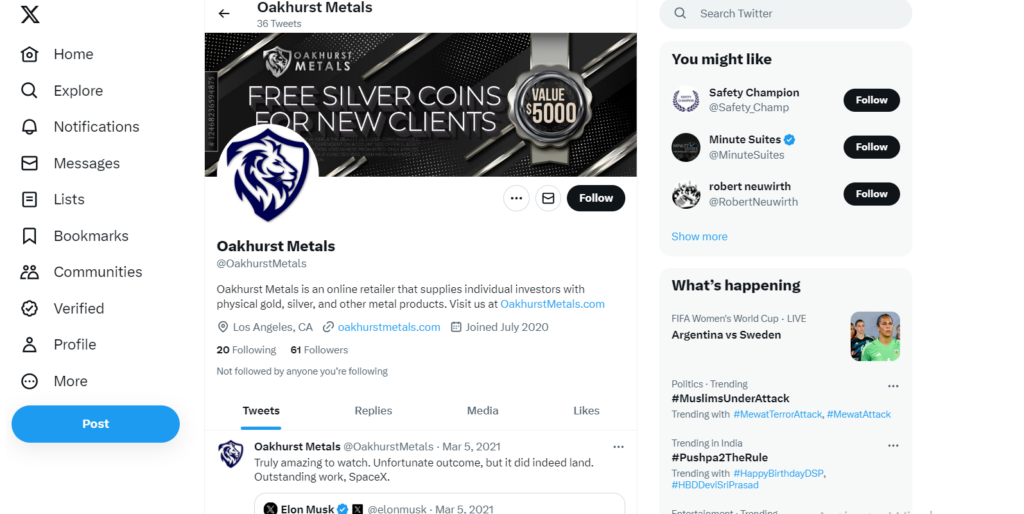 Oakhurst Metals Facebook Page:
The company has 123 followers with 98 likes on its Facebook account. On Facebook, Oakhurst Metals has no star ratings.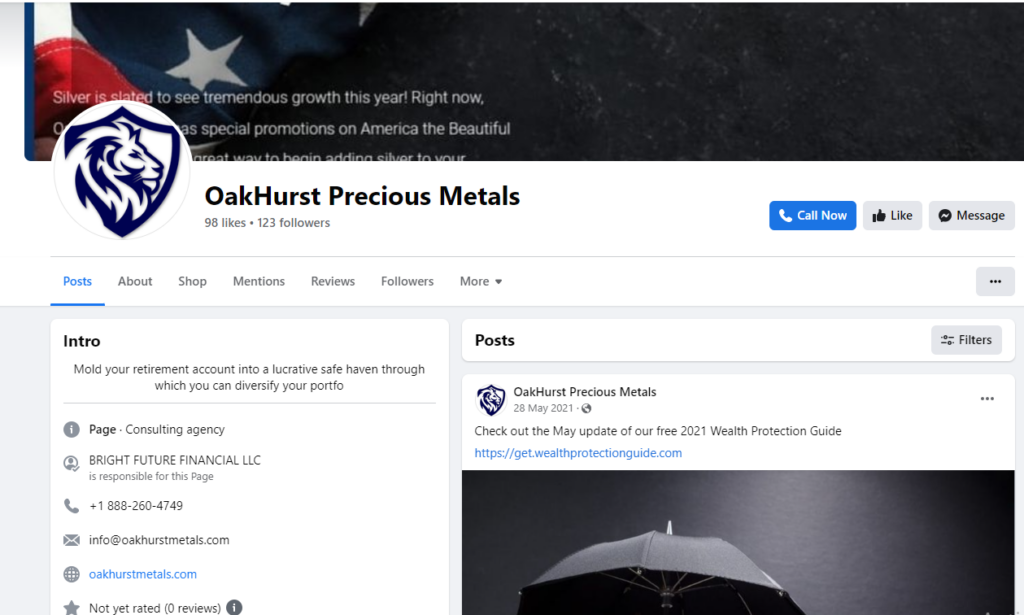 Oakhurst Metals Instagram Page:
Oakhurst Metals has an Instagram profile with 23 followers. Only 21 posts have been shared till now. They are following 7 accounts and joined Instagram in July 2020.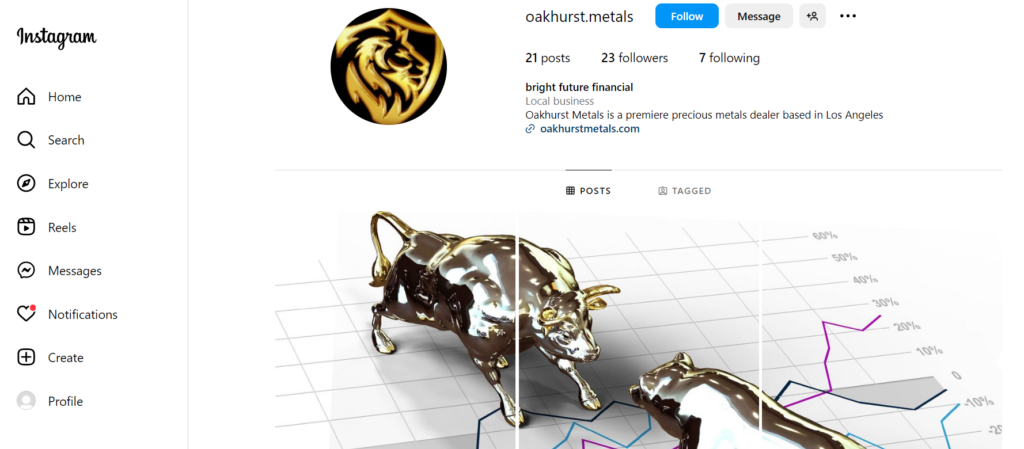 Youtube Account of Oakhurst Metals:
The company has a YouTube channel with just 5 subscribers. To date, they have posted only 2 videos, which have accumulated 139 views. Their YouTube account was created on July 8, 2020.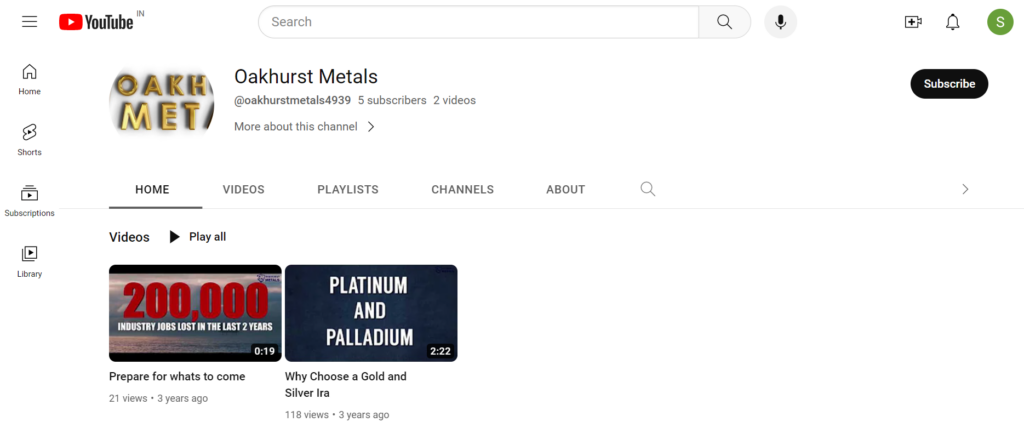 Oakhurst Metals LinkedIn Page:
Oakhurst Metals maintains a LinkedIn profile with 48 followers. Their company size is indicated as having 11-50 employees. However, currently, only 2 of its employees have profiles on LinkedIn.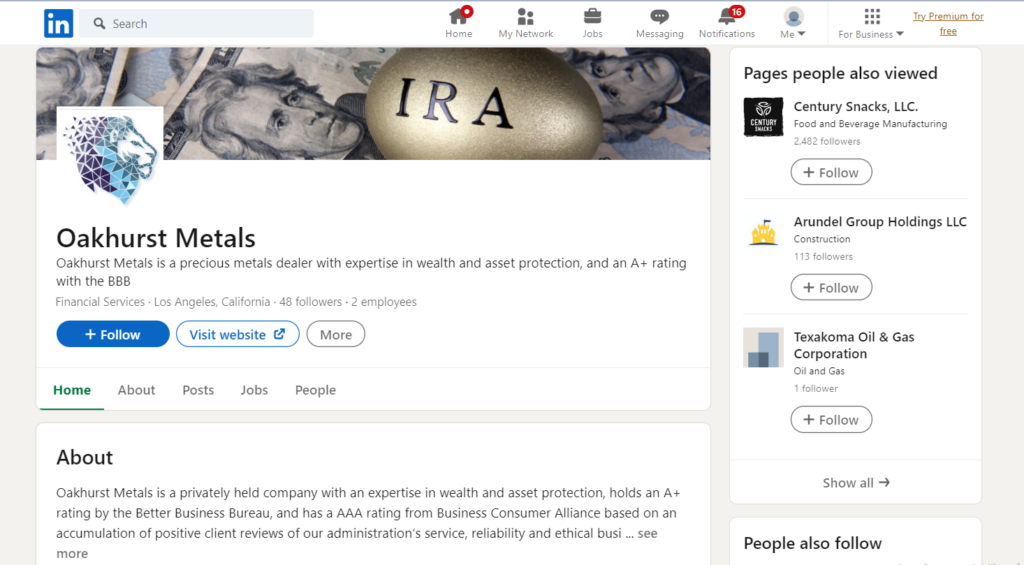 Oakhurst Metals Reviews and Complaints: BBB, Trustpilot, Sitejabber
Read all the Oakhurst Metals reviews & complaints
Better Business Bureau (BBB):
On the Better Business Bureau website, Oakhurst Metals have 3 stars out of 5-star ratings. The business has only 4 customer reviews. They are since 15 years in the industry.
According to the Better Business Bureau, Oakhurst Metals has a D- rating. They have received 4 complaints in the past 3 years, and have not responded to any of them. The BBB also notes that Oakhurst Metals has been involved in 2 legal disputes in the past 3 years.
Oakhurst Metals has received multiple complaints on (Better Business Bureau and Business Conumer Alliance)
Oakhurst Metals has received several unresolved complaints from customers. There are also several unresolved negative reviews on different platforms. Our #1 rated gold IRA company has ZERO unanswered complaints on BBB.
The reviews presented are concerning, and they suggest that Oakhurst Metals may not be a reliable dealer. However, it is important to remember that these are just a few reviews, and they may not be representative of all of Oakhurst Metals' customers.
If you are considering doing business with Oakhurst Metals, I recommend that you do your own research and compare prices from different dealers before you buy. You should also be aware of the BBB rating and the negative reviews that have been posted online.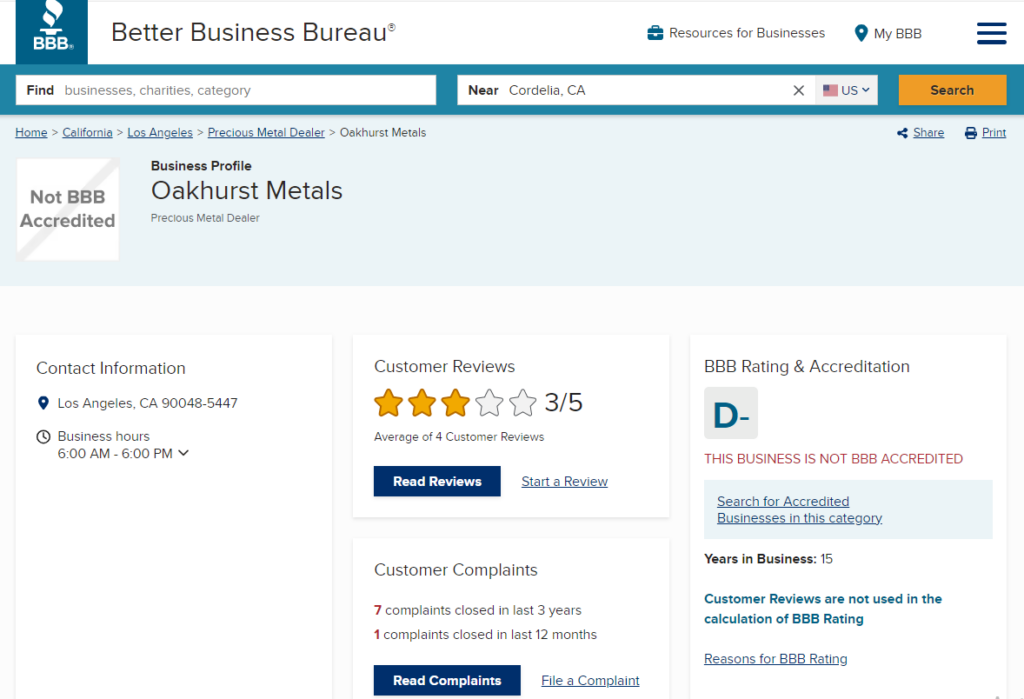 Google Reviews:
On Google, Oakhurst Metals has 3.7 stars out of 5-star ratings based on only 9 customer reviews. Mostly all of them are positive. Customers praised the company's excellent customer service, professionalism, and expertise.

Trustpilot:
The Trustpilot page for Oakhurst Metals currently has 25 reviews, with an average rating of 3.5 stars. The most recent review was posted on July 1, 2023.
Here, the company is on average state. An average rating is a measure of what a given customer base or population on average rates a certain product or service. It is calculated by adding up all of the ratings and dividing by the number of ratings.
The reviews on Trustpilot are mixed, with some customers praising the company's products and services, while others complain about poor customer service and delayed deliveries. Some customers are happy with the company's products and services, while others have had negative experiences. If you are considering doing business with Oakhurst Metals, I recommend that you do your own research and read the reviews carefully before you buy.
Business Consumer Alliance (BCA):
On Business Consumer Alliance, the company has F ratings with 4 stars out of 5 stars in their BCA account. A total of 21 customers reviewed them on BCA. They have no membership in BCA. A total of 12 complaints have been closed in 3 years.
An F rating on BCA is the lowest possible rating that a company can receive. It indicates that the company has a history of unresolved complaints, poor customer service, and/or unethical business practices.
The BCA rating system is based on a number of factors, including the number and severity of complaints, the company's response to complaints, and the company's overall reputation. A company with an F rating is considered to be a significant risk to consumers and should be avoided.
If you are considering doing business with a company that has an F rating on BCA, it is important to do your own research and read the reviews carefully. You should also be aware that there is a high risk of encountering problems if you do business with this company.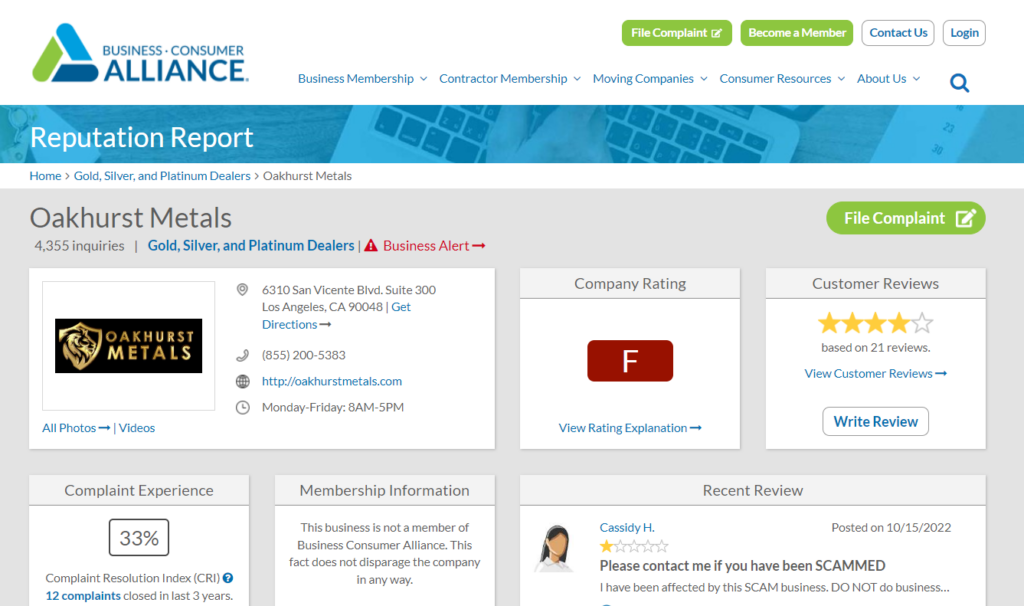 Some Positive Reviews:
#1. According to Jeff Quiroz, the experience was highly professional and helpful, with salespeople who exerted no pressure. He also mentioned that they gladly addressed any inquiries and offered educational assistance when required.

#2. Jomar Martinez shares his initial experience with Oakhurst Metals, stating that he called them with some questions after hearing about the company from his mother-in-law, who had a positive experience with them. He highlights that every person he spoke with was highly professional and knowledgeable in their field. Jomar made a purchase of various gold and silver items and has already witnessed an increase in their value.

#3. Mia recommends getting in touch with Michael, as he assisted her with her purchase and guided her through each step of the process. She describes the overall experience as highly positive and satisfactory.

#4. Norma praises Oakhurst Metals, describing their service as extremely professional and hands-on. She expresses gratitude for their comprehensive support throughout the entire process, from start to finish. During challenging times, Norma feels reassured to have Oakhurst Metals by her side, safeguarding her assets. She extends her thanks to the team once again for their exceptional assistance.

#5. Jessica decided to call out of curiosity, and to his satisfaction, all his questions were answered clearly. After placing an order, she appreciated the constant communication from the company regarding his purchase. The only surprise she encountered was the weight of his order, but despite that, she commends the wonderful service and the high level of professionalism exhibited by the team.

Some Negative Reviews:
#1. Quay Simons expresses deep concern, believing that he may have been ripped off by Oakhurst Metals. He states that he entrusted them with $30,000 for a silver purchase, but to this day, he has received no silver from them. Despite over two months passing, there has been no delivery, and his attempts to contact them via phone calls have gone unanswered.

#2. In Paul L's feedback, he expressed frustration with Oakhurst Metals, stating that they are quick to take your money but extremely difficult to communicate with.

#3. Cassidy Rose warns against the scam business that affected him, advising others not to engage with them. They have a history of taking money and severing communication. If you've been a victim, Cassidy encourages you to contact him for help at (912) 499-5136. Thank you.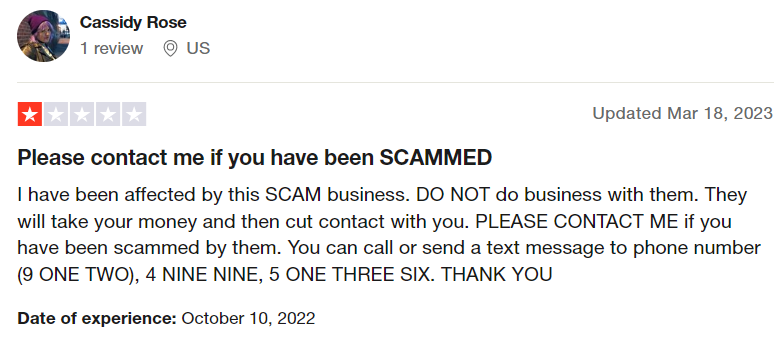 #4. Gino White criticizes the company's terrible customer service, particularly Mark's lack of responsiveness to calls and emails. He strongly discourages doing business with them due to their communication issues after receiving payment. Gino also discloses that his friend was scammed for almost $30,000 by Oakhurst Metals.

#5. Harrison announces his intention to take legal action against OAKHURST METALS, along with several of its employees, for alleged fraud. He invites others to review his complaint on TRUSTPILOT, BBB, and Alliance websites, where he claims to have posted evidence and documentation related to the case, including recordings. For those interested, Harrison can be contacted through his email: jcrewave@hotmail.com or on TRUTH SOCIAL @JKHARRISON.

Our top companies have a lean background and aren't involved in any kind of major legal dispute. You can check out the list here.
Are Oakhurst Metals Legit? Should You Invest With Them?
Is Oakhurst Metals a scam or legit? Are they worth it?
No, I don't think you should invest with them.
Pros:
Gold IRA services available
Cons:
Not a BBB-accredited business
Lack of transparency regarding the management
Risk of hidden fees and charges
Received many complaints for poor customer service
They have D- rating on BBB and F rating on BCA
I believe there are plenty of better options available for you.
Oakhurst Metals is a precious metals dealer that has been in business since 1995. They have a D- rating with 3 stars on the Better Business Bureau. They are also not accredited by BBB. The business has an F rating on BCA. They are involved in many legal disputes.
Whether or not this company is legitimate is a matter of opinion there was no publicly available information about its founder and owner.
Before you make any final decision, I recommend checking out our top gold IRA providers.
There, you will find out what the industry's best has to offer. Also, it will ensure you make an informed decision.
Or, you can check out the best gold dealer in your state below:
Each state has its regulations and rules, so we've sorted and found the best Gold IRA company for each state.
Find the best Gold IRA company in your state