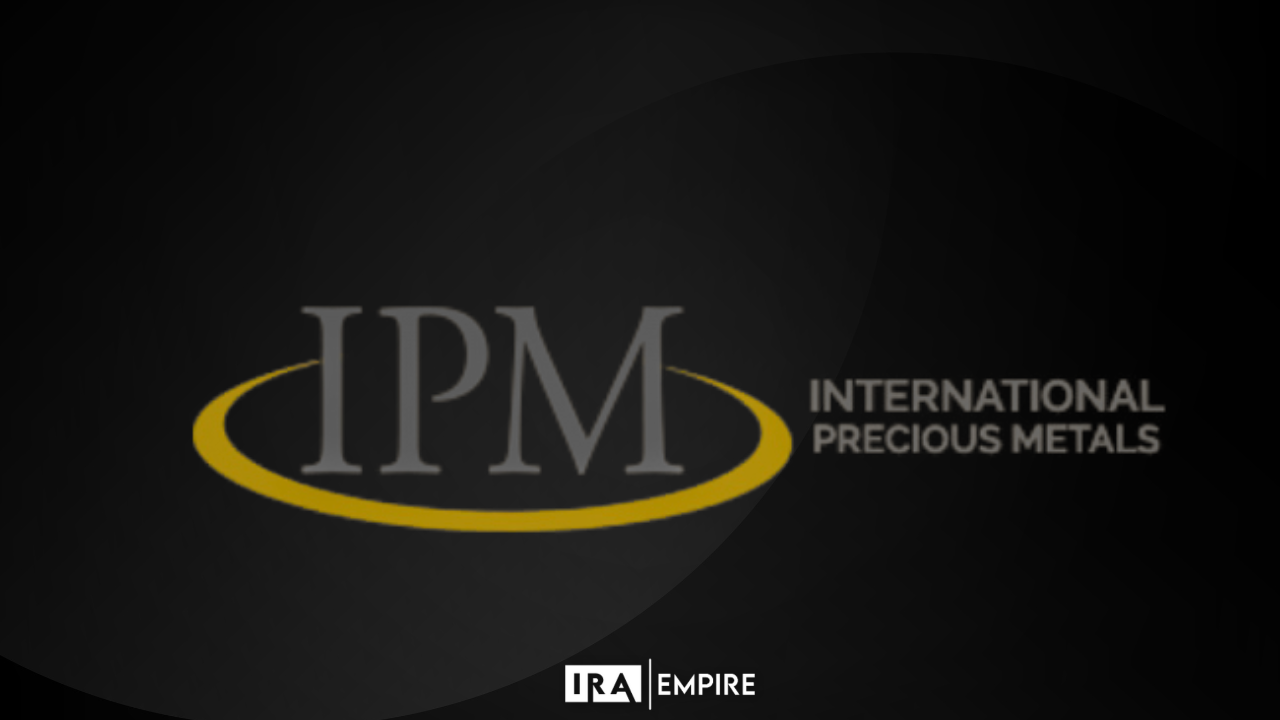 International Precious Metals
An Average Company
International Precious Metals is a bullion dealer with a very limited online presence. Although they have an A+ rating on BBB, they also have a mediocre rating of "B" on BCA. Furthermore, they have a serious issue of lack of transparency.
Pros
A+ rating on BBB
Over 25 years of experience
Cons
Lack of transparency regarding management
No fee-related information provided
Few reviews available on third-party platforms
What is International Precious Metals?
International Precious Metals (IPM) is a company that specializes in the buying, selling, and trading of precious metals. They offer a range of products, including gold, silver, platinum, and palladium in various forms such as coins, bars, and rounds. International Precious Metals serves both individual investors and institutional clients.

As a precious metals dealer, International Precious Metals aims to provide customers with opportunities to invest in physical precious metals as a means of diversifying their portfolios, hedging against inflation, or seeking a safe haven during times of economic uncertainty. They typically offer a wide selection of bullion products from reputable mints and refineries around the world.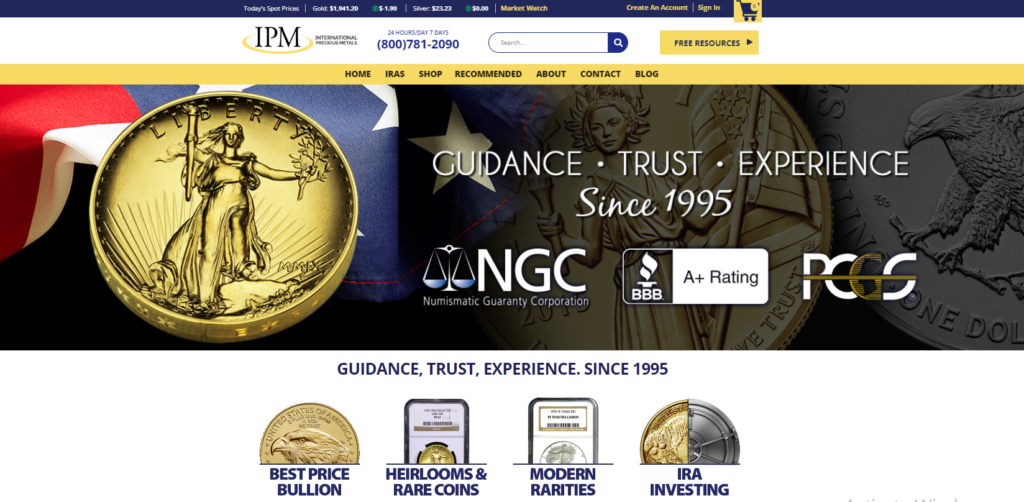 In addition to precious metals trading, International Precious Metals may offer other related services such as assistance in establishing Precious Metals IRAs, which allow individuals to hold physical precious metals within a retirement account.
They may also provide storage options through partnerships with trusted depository companies, ensuring the safekeeping of customers' precious metal holdings.
Who is the International Precious Metals Owner?
The ownership and management information of International Precious Metals is not readily available on their website, indicating a lack of transparency regarding this aspect of the company. The absence of such information can be seen as a contrast to the expectation of transparency that stakeholders, including customers and investors, may have.
Transparency in business is important as it helps build trust, fosters accountability, and allows stakeholders to make informed decisions. When a company provides clear and accessible information about its ownership structure and management team, it demonstrates a commitment to transparency and accountability.
In the case of International Precious Metals, the lack of transparency regarding the owner and management team on their website may raise questions or concerns for stakeholders. Without publicly available information, it becomes more challenging for individuals to assess the qualifications, experience, and backgrounds of the individuals responsible for leading the company.
On the other hand, our top-rated company has received the title of "Most Transparent Company" from Investopedia twice.
According to International Precious Metals' LinkedIn profile, it appears that Mr. Barry Jepson is the CEO of International Precious Metals, Mr. Ted Moody is the Accounting Manager, and Mr. Nathan Currie is the COO.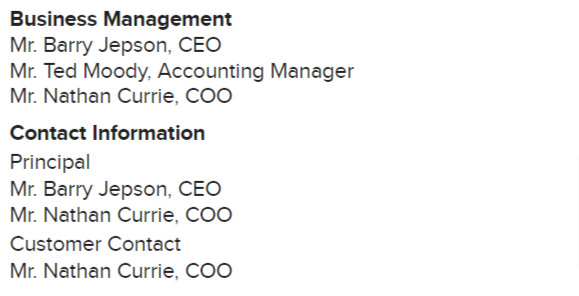 How to Invest in International Precious Metals IRA?
To invest in an International Precious Metals IRA, you typically need to follow these general steps:
Research and choose a reputable IRA custodian: Look for a custodian that allows precious metals investments within an IRA. Ensure they have a good reputation, transparent fees, and excellent customer service.
Open a self-directed IRA account: Contact the chosen custodian and follow their procedures to open a self-directed IRA account. You will likely need to provide the necessary personal information and complete the required paperwork.
Fund your IRA: Determine the amount you want to contribute to your International Precious Metals IRA and transfer funds from your existing IRA, 401(k), or other eligible retirement accounts to your newly established self-directed IRA.
Choose a precious metals dealer: Research and select a reputable precious metals dealer that offers the specific types of gold, silver, platinum, or palladium products you wish to invest in. It's important to ensure the dealer has a track record of authenticity, fair pricing, and reliable delivery.
Purchase the precious metals: Contact the precious metals dealer and place an order for the desired products. Provide them with the necessary information, such as your IRA account details, to facilitate the purchase. The dealer may require specific instructions regarding the mint, purity, and form of the precious metals.
However, I don't recommend opening an IRA with them. Why? Because there are plenty of better options available for you.
Opening a precious metals IRA is a major decision. That's why I suggest checking out our top gold IRA providers list. There, you can find the best precious metals dealer of your state and choose accordingly.
Also, the list will help you understand what the industry's best has to offer and what you might miss out on.
International Precious Metals Products:
International Precious Metals offers a wide-ranging catalogue of investment products that encompasses a variety of precious metals.
Their selection includes coins made of gold, silver, platinum, and palladium, available in various weights. The catalogue caters to different preferences, with options such as IRA-approved coins, pre-1933 coins, and rare collectables. The inventory is extensive, providing choices that appeal to both retirement savers and collectors alike.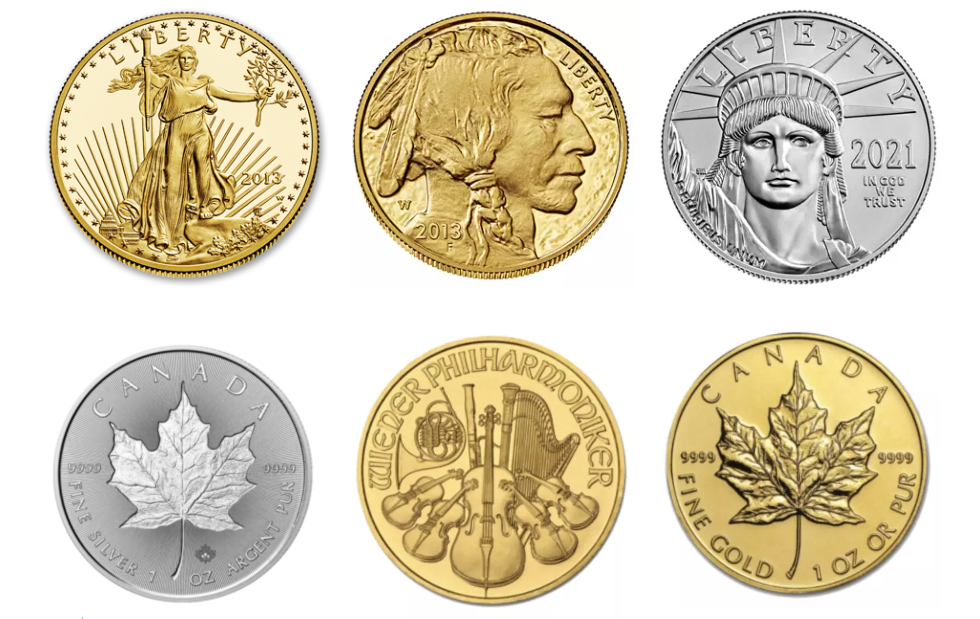 Within their collection, International Precious Metals offers notable coins like the Gold Austrian Philharmonic, Gold Australian Kangaroo, American Gold Buffalo, American Gold Eagle, Platinum American Eagle, Gold Canadian Maple Leaf, and Silver Canadian Maple Leaf. These coins represent popular choices among investors and enthusiasts due to their recognized quality and value.
International Precious Metals Fees and Charges:
Opening a precious metal IRA account involves several associated fees. The application process typically includes a one-time fee charged by the chosen custodian, as stated on the application.
Additionally, on the International Precious Metals (IPM) website, there are other important fees to consider. IPM mentions setup fees that may vary depending on the selected trust company. Generally, for the first year, an approximate amount of $100 can be expected as a setup fee. Subsequent annual fees are determined based on the value of the assets held in the IRA account.
These fees typically range from $50 for smaller accounts to approximately $500 for larger accounts. It's important to note that the specific fees may vary depending on the custodian and the size of the account.
Companies like Augusta charge ZERO fees for up to 10 years and allow you to choose your own gold & silver. Here, on the other hand, you get fewer options.
>>>Get in touch with the #1 rated gold IRA company of 2023<<<
International Precious Metals Reviews and Complaints:
Google Reviews:
On Google, International Precious Metals has 4.9 stars out of 5-star ratings based on customer reviews. There are a total of 27 customer reviews on Google, and most of them are positive, with customers praising the company's excellent customer service, professionalism, and expertise.

Better Business Bureau (BBB):
On the Better Business Bureau website, International Precious Metals has an A+ rating with no customer reviews. They are since 28 years in the industry. No complaints have been filed and closed in the last 3 years. This business is BBB accredited.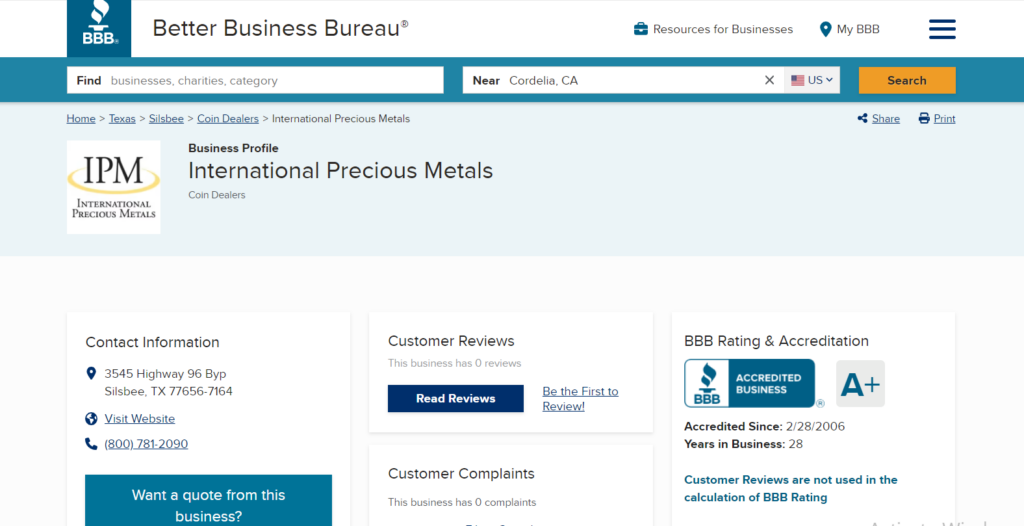 Business Consumer Alliance (BCA):
On BCA, International Precious Metals has no star ratings. There they have a B company rating. In the context of the Business Consumer Alliance, a B company rating represents the medium possible rating assigned to a business by BCA. The B grade indicates that the business has an acceptable performance record according to the BCA's evaluation criteria.
However, it's not the highest rating. Certainly, it can be an alarming issue for many investors.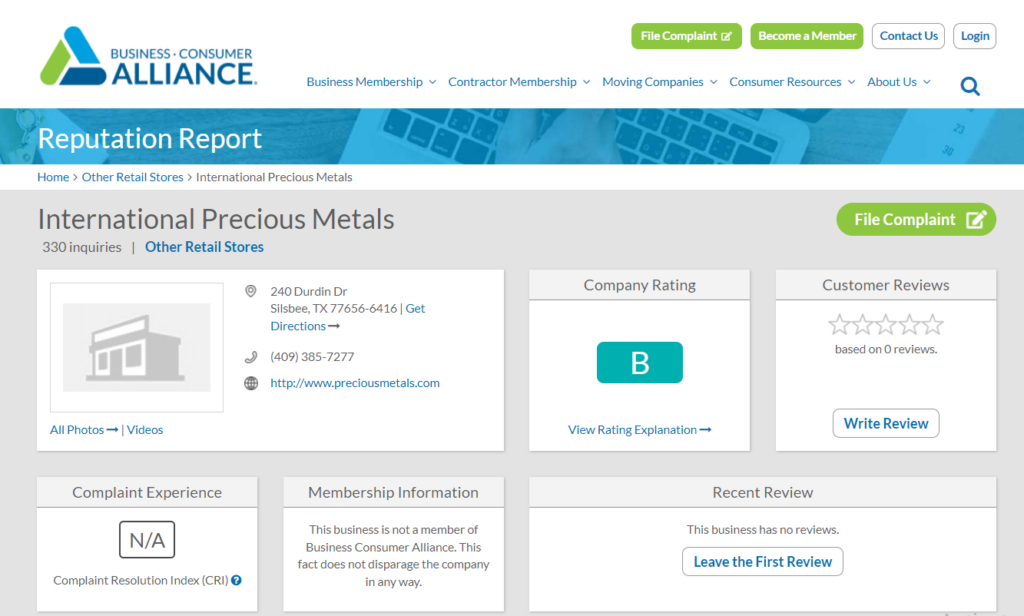 Customer Reviews on Different Platforms:
#1. Terry Mixon expresses gratitude towards International Precious Metals, particularly Penny Gunter, for providing exceptional assistance. Terry describes the team as extremely helpful, displaying kindness and courtesy throughout the interaction. He encourages others to reach out to them via chat or email for any questions. He also highlighted their extensive knowledge and the rare quality of their kind and considerate service.

#2. Mike Shuman shares his recent experience of making his first purchase, specifically a US Gold Buffalo. He expresses his satisfaction with the purchase and confirms its authenticity through verification. Mike expresses contentment with the transaction and looks forward to making future purchases.

#3. Lawrence Chase expresses uncertainty about whether this is the appropriate platform to rate Penny's performance. However, if this is the right place, Lawrence acknowledges Penny's excellence in her role. Lawrence appreciates how Penny skillfully establishes a "connection" with chat customers, effectively drawing them into the Company's fold. Lawrence describes the experience as very pleasant and commendable.

#4. Debra Lockett expresses her delight with the online chat experience she had. Typically, Debra finds online chats to be limited in their capabilities. However, she emphasizes that Penny provided exceptional assistance across all aspects and effectively guided her through the entire process, including two resulting transactions. Debra describes the experience as delightful, particularly as someone new to the world of precious metal purchases.

#5. Derrick Besser expressed his dissatisfaction with the situation where he mentioned driving to a business location only to find that it doesn't exist or is solely an online presence. He expressed disappointment in the wasted time and expense of gas, particularly considering the current high gas prices. Derrick suggested that if a business is going to misrepresent its physical presence, it should at least do so in a more accessible location within the city.

International Precious Metals Lawsuits: UniCourt & Justia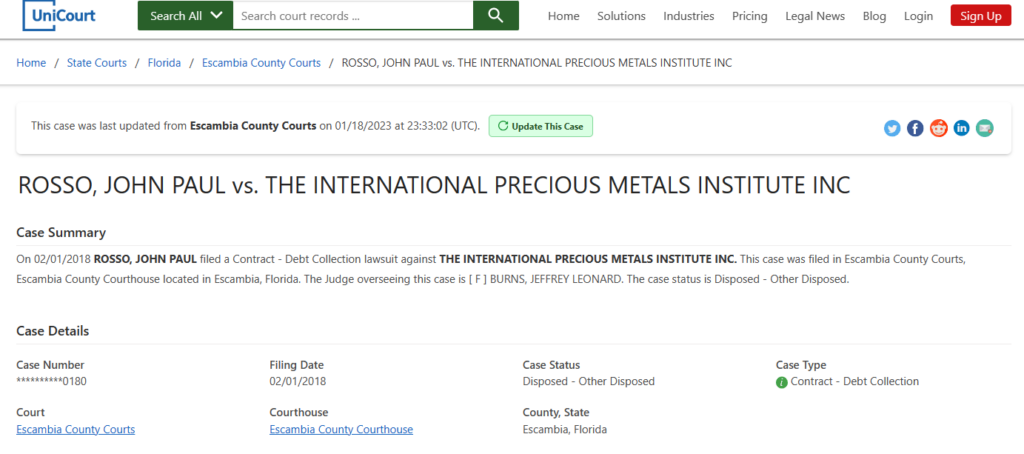 On 1 February 2018, Rosso John Paul filed a contract debt collection lawsuit against International Precious Metals.
Are there any International Precious Metals Complaints? Should you be Concerned?
Yes, there were a few complaints available on them.
However, because the overall number of their reviews is very low, it's very difficult to find much customer feedback on IPM.
Certainly, it's a huge red flag.
Customer feedback is one of the biggest factors you should check when looking into a gold IRA provider. It can help you ascertain what the usual experience of a company's client is and can be a great aid to your decision-making process.
That's why I only recommend dealing with highly reputed companies.
For example, our top-recommended gold IRA company has hundreds of positive reviews across different consumer platforms including BBB.
Is International Precious Metals Legit? Should You Invest With Them?
No. I don't think you should invest with them.
Pros:
A+ rating on BBB
Over 25 years of experience
Cons:
Lack of transparency regarding management
No fee-related information provided
Few reviews available on third-party platforms
While it's true that International Precious Metals is a legitimate company, it has a lot of issues as well.
Furthermore, there are better alternatives to them available where you can get better services.
A huge issue I noticed was the severe lack of reviews available on the company. Although they claim to be in the industry for several years, they don't have any online presence to reflect it.
Moreover, they don't share any fee-related information on their website.
So, while I would say International Precious Metals is a prominent gold IRA provider, they are certainly not the best.
To learn about the best, I recommend checking out my top gold IRA recommendations.
Alternatively, you can check out the best gold IRA company of your state below: